It's the first day of summer, and I am so excited! I just love the feeling summer gives me. Summer is about being a kid. No matter how old we get, we always feel like we did when we were 21. It's time off, vacations, and just getting a load off. It seems like everyone is happier in the summer. Not to mention, it's time to hit the pool! With the temperature hitting the triple digits here in Dallas later this week, I thought I'd share my favorite smoothie recipe to help you cool off.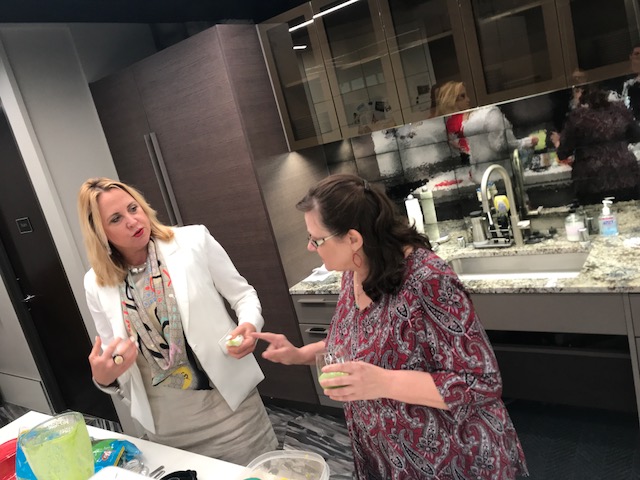 I just call this my "green smoothie." A very inventive title, I know. Here's what you will need:
A "big ole handful" of spinach
A few large pineapple chunks (I prefer to buy fresh, then cut and freeze.)
Half an apple (skin included, but no seeds)
A dash of orange juice (not too much- I don't want a lot of sugar)
Some ice to get it cold
Enough water to help everything mix
Optional: cactus powder, which aids in digestion
How to make it: I just throw things in! If it doesn't taste right, I just keep adding stuff until it's the taste and consistency that I like. I just turn my blender on high and go to town! Once it looks smooth, I'll taste it. When I was doing a demo for my staff, I told them it needed to be "a little more blendy," so I added more spinach and pineapple to thicken it up. After a second taste test (with a clean spoon-no double dipping when you're sharing), I determined that it needed to be sweeter, so I added some more orange juice. This is the point at which my staff was going all wamba-zamba* on me. Apparently wearing a white and khaki outfit while pouring orange juice into an open blender churning bright green smoothie contents is a little frightening. Do not try this at home! A final taste test deemed my smoothie perfectly "blendy" as I say, and ready to pour. We have these adorable little disposable wine glasses from Amazon at the office, so we looked fancy sipping my concoction.
*wamba-zamba (adj.)- a state of freaking out for no reason
Q&A with my Staff
Do you make any other smoothies?
I also make an orange one and a purple one, but this is probably my favorite. The orange one is peaches and carrots. The purple one is blueberries and blackberries. No matter the color though, I always put my basics in: pineapple, apple, orange juice, water, and ice. It's not uncommon for me to have all three of them in one day, just to get my vegetables in. I don't like to eat vegetables! To my recollection, I never tasted a vegetable until I was 21. Smoothies are an easy way to get in my vegetables. I'd rather drink it than eat it, so I get the nutrients without the taste.
Who taught you how to make this smoothie?
I bought a "how to make smoothies" book. I ended up not using it very much, because I quickly learned that smoothies can just be made on the fly without much thought.
Do your kids like this smoothie?
Yes! They are very picky eaters, so at first they were very leery of the color. Once I got them to taste it though, they loved it. I like to make these for breakfast, because then I know they are getting some vegetables in for the day.
Since we are a design firm, how does this smoothie tie into design?
I really like the texture of fruit, especially when things can be used in a different context. For example, you can use the outside of the pineapple as a floral vase. The girl that prepped my smoothie ingredients actually saved the outside of the pineapple to make a cute arrangement for our reception area here in the office, and I think it's really creative. I also really like the variety of colors that you can use to make a smoothie, which ties into my love of color in design.
Any tips or tricks?
Get a good blender with some horsepower. You should be able to push a button, boom, and go!
Keep adding fruit and vegetables until your smoothie is perfectly "blendy."
Drink more smoothies!
Happy summer everyone!
XO, Adrienne